Griffin-Hammis Associates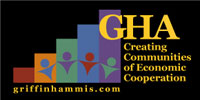 Griffin-Hammis Associates is a virtual company with staff and special-projects consultants located in over a dozen states. GHA is a leader in customized employment, self-employment, and microenterprise options for individuals with disabilities. Virginia Commonwealth University and Griffin-Hammis have a long history of collaboration including other grant funded projects such as T-TAP (Training and Technical Assistance to Providers) and START-UP/USA, a national training and technical assistance center on self-employment. Griffin-Hammis' most recent projects include statewide training, technical assistance, and systems change for customized and self-employment development with numerous states and local agencies. GHA associates also serve as Subject Matter experts for the national Employment First initiative headed by the Office of Disability & Employment Policy (ODEP).
GHA maintains critical partnerships with community rehabilitation agencies, major universities, family groups, advocates, state and federal agencies, rehabilitation training entities, and employs a host of content experts, including peer-mentors with disabilities assisting other aspiring business owners. GHA currently operates approximately 2-dozen projects and programs in the U.S. and Canada. They have written numerous book chapters, training resources, and books including: Making Self-Employment Work for People with Disabilities (Brookes, 2003) and The Job Developers Handbook: Practical strategies for Customized Employment (Brookes, 2007). Cary Griffin will serve as a consultant to Research Study Three, Customized Employment as an Evidence-based Practice to Improve the Employment Outcomes of Transition-age Youth with Physical Disabilities.

Cary Griffin, Senior Partner
Griffin-Hammis Associates, LLC
5582 Klements Lane, Florence, Montana 59833
(406) 273-9181, cgriffin@griffinhammis.com
Mr. Cary Griffin is a Senior Partner at Griffin-Hammis Associates, a full service consultancy which specializes in building communities of economic cooperation, creating high performance organizations, and focuses on disability and employment. Cary provides training to administrative and direct service level professionals in the rehabilitation field; consultation to businesses and rehabilitation agencies regarding the employment of individuals with significant disabilities; conducts field-initiated research & demonstration; provides family & consumer case consultation; develops resources; and organizational development. Cary has been instrumental in designing self-employment protocols and training for individuals, agencies, and states. Currently, Cary manages over two dozen nationally distributed projects related to Customized Employment implementation and training, systems change, and microenterprise. He is also the Board Chair for the Center for Social Capital that oversees the Joseph P. Kennedy Foundation's Microloan Fund.