Fact Sheet
The Opportunity Game: Presenting Yourself to Employers as a Great Candidate by George Tilson, Ed.D. Tilson & Diaz Solutions, Inc.
Looking for employment? You're in good company. Lots of people are doing the exact same thing. Yes, it's competitive out there, but competition can get the adrenaline and excitement going. This is exactly what you need: a spark of enthusiasm, tenacity, optimism and a sense of adventure. This fact sheet covers some of the essential points made in our webcast. Read the Fact Sheet & View the Archived Webcast
Research Brief

What is Discovery?
In 2014, customized employment was added to the definition of supported employment in the Workforce Innovation and Opportunity Act (WIOA), which was signed into law on July 22, 2014. Customized employment (CE) was initially defined in the Federal Register as a blending of services and supports. CE may include --- job development or restructuring strategies that result in job responsibilities being customized and individually negotiated to fit the needs of individuals with a disability. Customized employment assumes the provision of reasonable accommodations and supports necessary for the individual to perform the functions of a job that is individually negotiated and developed (Federal Register, June 26, 2002, Vol. 67, No. 123 pp. 43154-43149). Read the Brief | More about the studies
Archived Webcast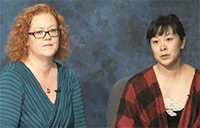 Be sure to watch the Customized Employment for Transition-Age Youth with Physical Disabilities webcast archive!
In this webcast, Pam Hinterlong and Stephanie Lau reviewed the components of Customized Employment (CE) as an intervention to improve the employment outcomes of transition-aged youth with physical disabilities.
They shared case study examples that illustrate the use of Discovery, customized job development, and employment proposal and individualized job site supports as components of customized employment.
Upcoming Webcasts
Nov 18- Accessing Information on Employment by Individuals with Traumatic Brain Injury: Facebook as a Knowledge Translation Strategy - Register Online
Archived Webcasts - Did you miss one of our webcasts? Be sure to check out our 2015 Webcast Series.
---
Follow us on Pinterest!